Five Ways You Can Use Vaultody To Supercharge Your Project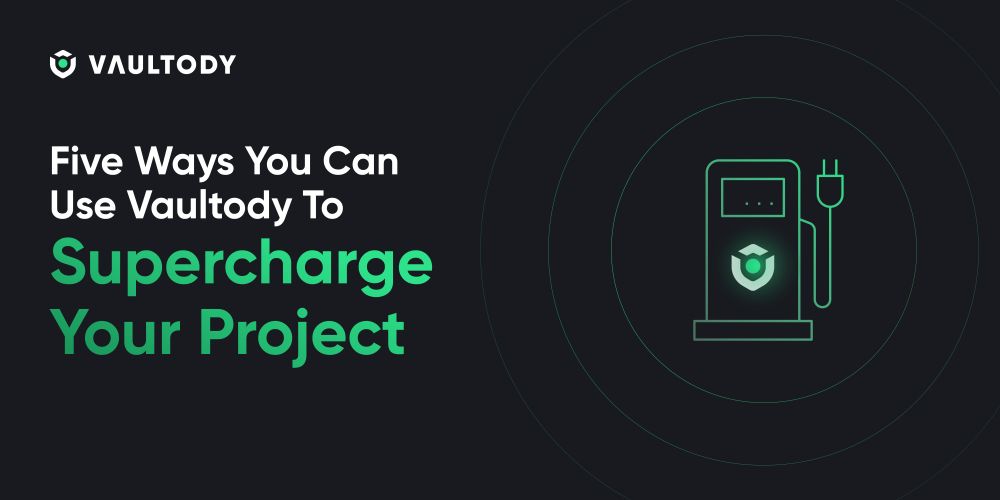 Organizations are always looking for ways to scale, optimize internal processes, reduce costs, operate more efficiently with funds, have full control on their spendings and simplify their day-to-day operations. You may be a small, medium or a large corporation - it doesn`t matter, as better management processes are sought by all types of businesses in order to be more competitive on the market.
As Vaultody`s MPC solutions are aimed at business clients, we are providing a short overview of the five ways that will provide insights on what you can achieve with us. Our list is limited to five, but the possibilities that may open-up are limitless, depending on the nature of your business, your organizational goals, and the purpose for using our services.
Create an internal organizational custody
Very often organizations are in the position of shortlisting, selecting and working with different custody providers. This not only takes a lot of time for researching and comparing providers, but it can also cost a fortune, which is far from ideal for optimizing your operational budget. Not to mention all efforts related to overseeing, coordinating, monitoring and reporting the way of how funds are managed by your provider(s). It is not rare for clients to lose control and flexibility on their own funds which sometimes may have detrimental effects on your business growth or strategic path.
Vaultody`s MPC solution is customer-centric, as it is all about your security and the security of your funds. Vaultody provides incredible operational flexibility, and the best part is - you can organize all custodian processes within your own organization. The MPC technology simplifies private key management, provides the most advanced security on the market, and is protected by multiple features against unauthorized access, human errors, and internal unethical actions.
Optimize Funds Management & Operations Efficiency
Working with numerous crypto addresses, custodial providers and broadcasting large numbers of transactions across a wide range of blockchain protocols is neither efficient, nor cost-effective. We are very well aware of the challenges that organizations face when operating with crypto assets, which is why Vaultody was created - no one wants to waste time, pay more and lose focus from their priorities. You also want to stay in control at all times - how you operate with your funds must be your own decision.
For optimal transaction management we created the Contacts feature, which allows you to create transaction policies for specific addresses which are included in a certain group. For instance, the account owner may create a group in which their accountant may review and approve/reject salary-related transactions. Through our Smart Vaults, cost optimizations can be attained as savings from transaction fees can be up to 50% on a single transaction. If placing batch transactions which are EVM blockchains supported (this is another unique feature that can save you a lot of time, hassle and money), the fees reductions can exceed the incredible 90%. The latter is because on batch transactions you only pay one fee which is taken from your main address.
In Vaultody, it is crucial for the account owner to maintain full control over all activities within their vaults. For this reason, the account owner must approve or reject all requested system actions and transaction requests, ensuring the avoidance of any unexpected surprises. As account owners tend to have very hectic schedules and are always on the go, the Vaultody Approver mobile app is allowing rejections and approvals only from their smartphones, whenever they are, as long as they are connected to the internet. Depending on the transaction policies which are approved by the owner, team members may be allowed to approve transactions on behalf of the owner.
Maximum Protection On Your Digital Assets
This is perhaps the most important scenario in which a business may be looking for custodial services. The MPC technology ensures distribution of key shards in standalone servers. Through key shards the problem with a single point of failure is completely solved, as no one is in possession of the entire private key for a vault. By default, key shards are located on our secure servers, but we can distribute part of the shards to your own cloud server from different external servers.
Vaultody`s backup and recovery is another mechanism that we have in place, to guarantee your safety. It is a compulsory step to create a backup of your vault, which also must be approved or rejected by the account owner. Through our own open source Vaultody Recovery Tool, users must provide their keys or generate strong RSA key pairs (optional step) and create a backup which is advisable to be stored locally, on a personal device. Through the tool a recovery process can be initiated. When the system records align with the data provided by clients (the provision of this data will be requested by the recovery tool), clients will regain ownership of their master extended private key (xPriv) and regain full access to their vault(s).
In addition, your protection can be guaranteed by assigning team roles, and delegating approval and rejection rights through a two-level approval process in which multi-party approval is required. The account owner can set specific limits as per their needs. As mentioned above, to ensure full control and security, account owners must approve all system actions, which allow adding team members to a vault, role change requests as well as other requests made by team members. Through a set of predefined rules, transaction requests may or may not require approval/rejection from the owner or from other team members which are part of the multi-level approval mechanism.
Handling funds can be automated and distributed across hot and warm wallets upon pre-defined limits - these limits can be suggested by any team member, but can be approved only by the account owner as a security measure. One of our favourite use cases is the usage of hot wallets for transactions with small amounts on a regular/daily basis. Upon reaching the limits, the owner can activate automated forwarding of the funds amount in order to secure them into a warm wallet (the warm wallet may be requiring level 1 and level 2 approvals, whereas hot vault may be requiring none or level 1 members approvals).
Now to the boring part - apart from the numerous functionalities, our team is committed to rely on the latest technologies to take to the absolute minimum the chances of unauthorized access from external parties. We utilize technologies and solutions like hardware enclaves, which ensure encryption and isolated environments within computer systems, prioritizing security and confidentiality when handling sensitive computations. Through the use of MPC technology, Zero Knowledge Proofs (ZKPs), the Elliptic Curve Digital Signature Algorithm (ECDSA), as well as other advanced technologies, we guarantee users the highest level of security available on the market.
Optimizing Your Organizational Processes Through Clear Responsibilities Path
As an account owner, you may wish to introduce certain rules that will apply to your vault(s) by assigning team members to them and giving them specific roles.
Vaultody solutions are designed to be very flexible and cater for the specific needs of our clients, regardless of the aspect that you would like us to cover. For instance, we can provide a lot of flexibility in terms of how many team members you can onboard to your account, what number of transaction policies you can create as well as other specifics that are important for the management of your vault(s).
The idea behind rules and policies is to help you create certain limits that are in accordance with your organizational processes. For example, you may want low-value transactions to not be reviewed and approved/rejected by team members and to automate transactions` processing. In case you add a rule requiring low-value transactions to be approved by Level 1 members, it is required all of the team members that are part of Level 1 to interact with their own Vaultody approver mobile application in order to execute the needed action.
Bookkeeping & Accountancy
Imagine using different custodial/subcustodial аnd other financial management providers, plus you operate with multiple wallets and infinite addresses for your regular transaction activities and business operations. Every business needs to review their balances and track their own financial condition over regular intervals, but can you imagine how hectic pulling data from all providers, wallets and addresses would be? Once you gather all data you must compile, analyze and cross-check that data to validate its authenticity, and only then you can produce financial statements and documentation.
Vaultody`s vaults are designed to simplify your bookkeeping tasks, as we keep data about all transactions into your vault, regardless of the blockchains on which transactions are broadcast or the type of digital assets that you use.
To check your day-to-day balances and status of transactions across all addresses you can visit our intuitive and interactive dashboard. You can also take advantage of using our APIs or you can integrate our SDKs to easily receive your weekly, monthly, yearly and for a custom period of time data reports.