Wallet Backup & Vaultody Open Source Recovery Tool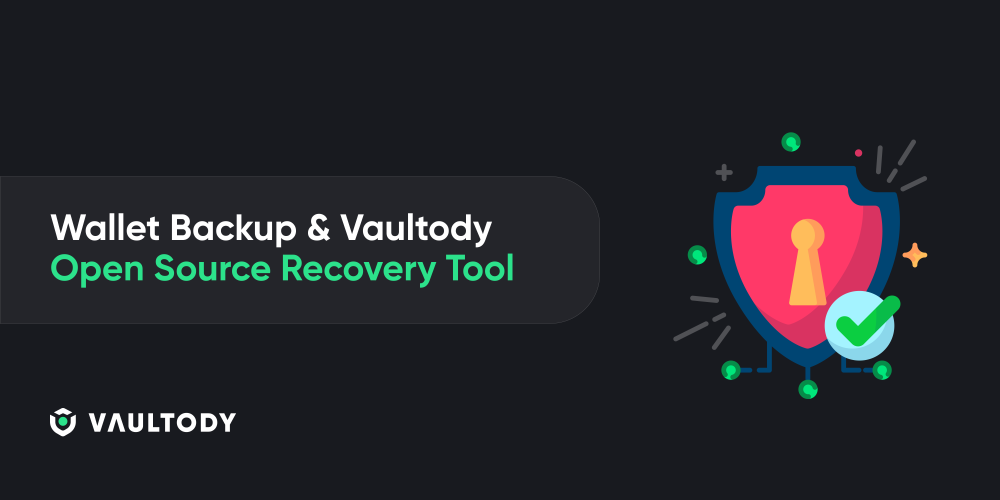 In our previous blog posts, we discussed the various features that Vaultody MPC wallet offers along with several groundbreaking and new to the market functionalities available in our solutions. As part of our corporate vision and mission, Vaultody`s team is also committed to focusing on the provision of the highest possible security and privacy level to our customers.
In terms of security and privacy, backing up your wallet and the available recovery tools for securing your digital assets is crucial. This post will provide insights on the Vaultody Open Source Recovery Tool as well as all necessary steps needed to backup and ensure recovery of your wallet.
Vaultody Open Source Recovery Tool
Vaultody Open Source Recovery Tool is an open-source software which we made available to our users on our official page on GitHub. By navigating to GitHub you can download and install it - this is the first step to creating a backup or restoring your wallet.
Our tool is secure by the RSA key pair algorithm, which enables public key encryption and is widely used to secure sensitive data, particularly when it is being sent over an insecure network. The versatility of the tool allows the provision of backup solutions and ownership proof to users and their corresponding wallets. In addition, our tool has the ability to create random and intricate passwords which additionally boosts the level of security.



The tool is currently available for devices running on Windows, Linux, and MacOS operating systems.
Vaultody Open Source Recovery Tool Interface
We have simplified our tool, enabling only 4 actions to be performed through the intuitive and user friendly interface:
-Action one allows obtaining detailed information on how to use the tool in order to create a backup of your wallet
-Action two enables generation of a random, unique and complex password which secures the encryption of the backup files
-Action three is concerned with the generation of a private and public RSA keys - the creation of the pair of keys represents the generation of a public key and an encrypted private key, taking care of securing the backup and allowing options for recovery.
-Action four involves the (actual) wallet recovery, which is underlying for the generation of a master extended private key (xPriv). The xPriv key is used for wallet recovery when the supplied data equals the system information generated during backup.
Backing up your Vaultody wallet
Setting up your backup starts from Vaultody`s dashboard in the settings menu, which will display the request backup option. Since this is an MPC wallet, the owner of the wallet will be prompted to either reject or approve the request.
Next step is to launch our tool, generate a random strong password, generate your RSA key pair, keep safe the keys generated by the tool and finally - to fully complete the backup of your wallet.
More information on the steps are available in our dedicated Backup and Restore A Wallet guide.
Recovering your Valtody wallet
In an event of recovery, Valtody`s users must follow several essential steps that will allow them to regain access to their wallet.
The first step involves installing the Valtody Open Source Recovery Tool on the device from which the recovery will be initiated.
Second step is launching the tool from the same device and choosing the "Recover Wallet" option. Once selected, users will be asked to provide all necessary data, including the recovery file, the RSA private key and the password used during the setup of the initial backup.
If all steps are completed successfully and provided details match the system records, our dedicated tool will show the master extended private key (xPriv).
We would like to point out that all customers that use Vaultody services will be asked to create a wallet backup for their own security during the creation process of their own wallet. This action is mandatory and cannot be skipped, as we are adding mechanisms to protect our users from potential loss of funds. In addition, RSA keys generation will be required as part of the security measures that we have in place.
When creating a backup, you have the choice to decide whether you would like to use our tool or not. We want our users to have the freedom to decide what works best for them. However, we highly recommend using the Valtody Open Source Recovery Tool as it is user-friendly and does not require any technical expertise. Note that this tool is essential when it comes to wallet recovery. Without using it, you will not be able to regain access to your wallet
Another important thing to remember is that all of the recovery and backup options are valid only for wallets that are or were created through the Vaultody`s dashboard.
For more information on how to recover, backup and restore your Valtody`s wallet, or if you would like to learn more about how Vaultody can ensure the most secure experience for your organizational needs, please reach out to our team so they can assist with your inquiry.