Institutional-grade custody technology
Vaultody provides the security of a vault and the flexibility of custody technology in an all-in-one platform.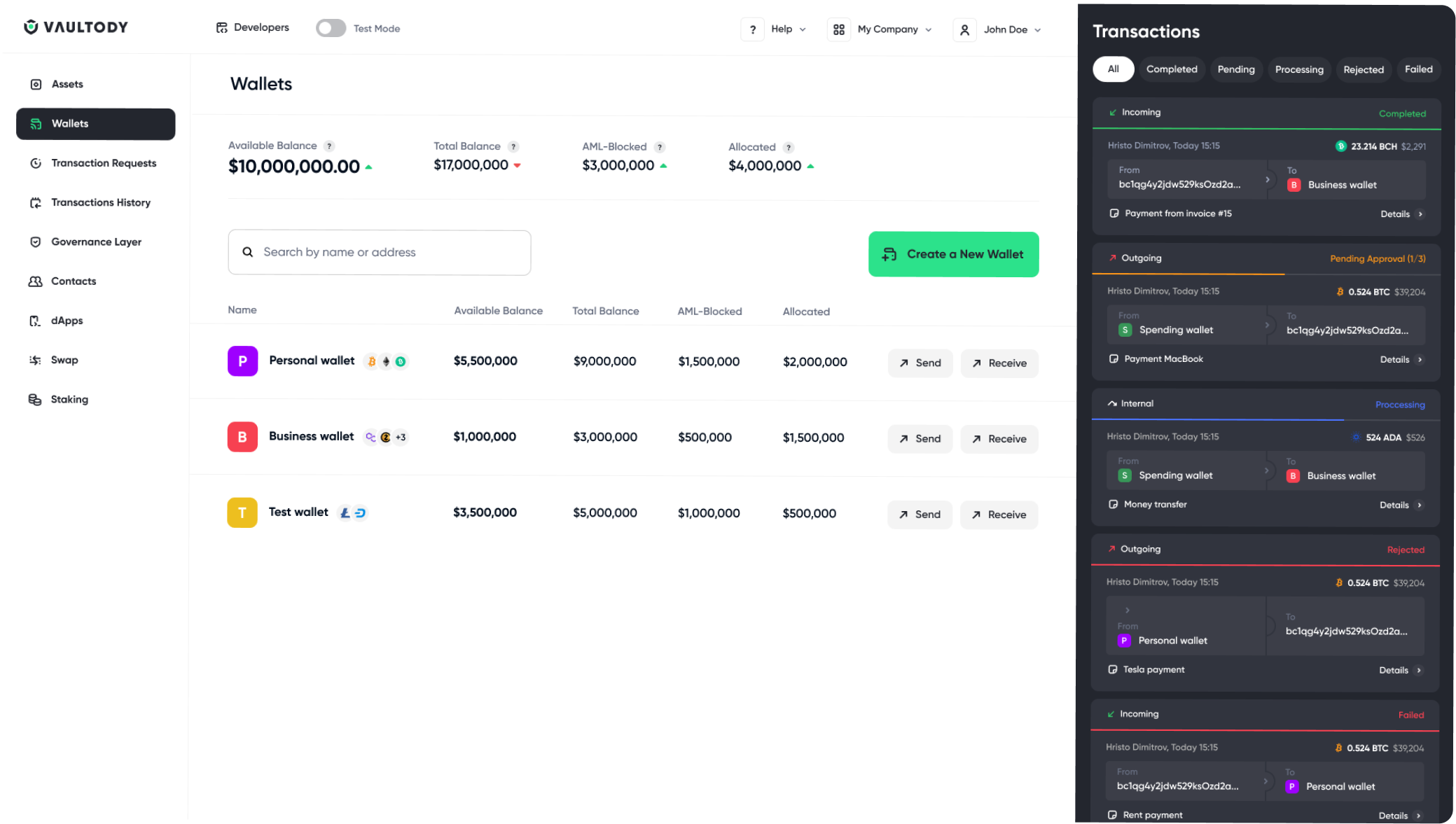 Our Mission
Our mission is to empower businesses and institutions with secure and flexible custody technology that allows them to manage their digital assets.
Our Vision
Our vision is to become a leading custody technology provider by offering an all-in-one platform for digital asset management.
How it all began
We started in 2017 with a tokenization platform, because we saw the need for a highly optimized fundraising service for startups. We helped more than 60 projects raise funding and generate revenue thanks to our token issuance platform. During this time we had the chance to work with many crypto projects, which helped us identify another issue, concerning building applications on the blockchain.
The need for multi-chain infrastructure
We saw the need of the community for a stable infrastructure that provided easy access to different blockchain protocols. A platform that makes building blockchain-based applications faster, cheaper and easier and at the same time is suitable for multiple use cases.
This is how we created the first version of Crypto APIs. We helped a number of crypto businesses go-to market fast and run their operations easily using a simplified integration that allowed developers to focus on their core work.
Later we upgraded our platform, increased its performance, expanded the technology stack and introduced new tools and features to create the ultimate suite for blockchain development. Crypto APIs currently has a robust auto-scalable infrastructure that offers more than 100 unified endpoints supporting more than 30 networks with an average processing speed of 25ms.

The road to MPC Vault
One of the biggest upgrades in our second version was launching Wallet as a Service. We implemented the most advanced and sophisticated cryptographic technology for securing transactions and key management - Multi-party computation.
Combined with internally built hardware isolation, governance layer, anti-spoofing and manual approval scheme we created a reliable, easy to use and flexible MPC Wallet as a Service.
From APIs to custody technology
Guided by our customer's feedback, we identified the rising demand for a product like Vaultody. We created a dedicated custody technology platform to answer the growing demand for cryptocurrencies from businesses and institutions.
We took the best from our wallet, added new features, improved the dashboard with more intuitive UX to create a flexible custody technology solution that allows anyone to manage crypto assets and have a 360-degree view of their holdings.
Vaultody combines the security of a vault with the flexibility of custody technology.