What The MiCA Regulations Mean To Vaultody And Our EU Users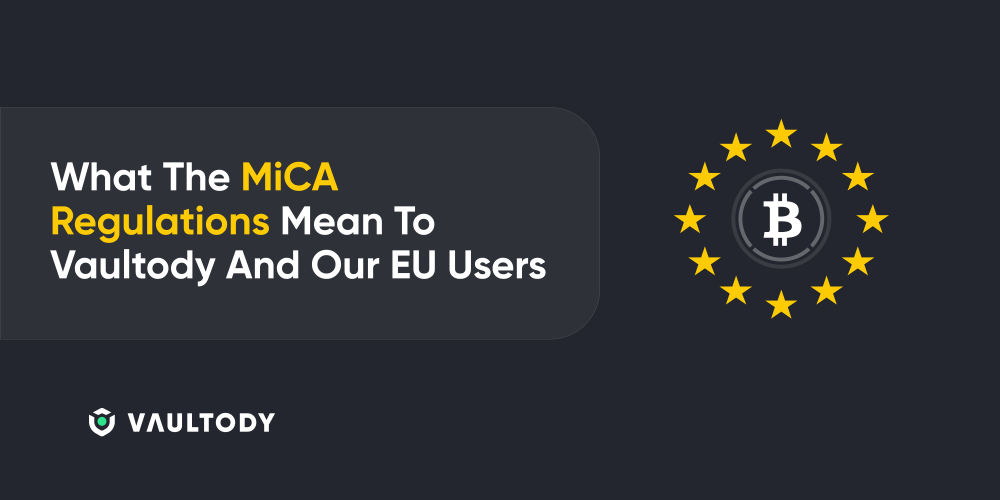 What is MiCA regulations
MiCA stands for the Markets in Crypto-Assets Regulation. It is a regulatory framework proposed by the European Commission to establish rules for the issuance and trading of cryptocurrencies and other digital assets within the European Union (EU). The main objective of MiCA is to provide legal certainty, consumer protection, and promote innovation in the rapidly evolving crypto-assets market. As part of the MiCA framework, a comprehensive definition of crypto-assets, including both cryptocurrencies like Bitcoin and stablecoins is introduced, as well as definition for other digital assets like utility tokens and asset-backed tokens.
A key milestone of the new framework is enhancing consumers` protection through a variety of mechanisms which are concerned with transparency, information disclosure, and prevention of market abuse. Service providers and crypto asset issuers are obliged to provide clear and accurate information to investors, ensuring they understand the risks associated with crypto-assets. Under the new regulations there will be much stricter protection on investor rights by imposing certain organizational and conduct requirements on service providers, such as custody of crypto-assets and conflict of interest management.

In addition, stringent requirements for issues of stablecoins, such as government arrangements, regular reporting obligations will be introduced for better control. The new rules will aim to prevent market manipulation, insider trading, and other abusive practices. It also mandates the publication of relevant information by crypto-asset issuers, such as whitepapers and periodic reporting. Each regulated entity under one EU state will be able to operate within all other EU markets without the need of separate authorizations.

When the MiCA framework will come into force?

Following the agreement that was reached by the EU and the formal signing of the framework from Wednesday, 31st May 2023, the bloc has become the first jurisdiction in the world to pass and enforce customized rules for the sector.
In order to come into force, the MiCA framework must first be published in the EU official journal, which is expected to happen this June. Once published, it is anticipated several weeks to be needed so this framework can become fully operational.

What does that mean for Vaultody users?

Under the proposed MiCA (Markets in Crypto-Assets) framework, crypto wallet providers including Vaultody, would fall under the category of crypto-asset service providers. As such, there are certain implications which our team will investigate thoroughly to ensure strict adherence to investor protection, anti-money laundering (AML), know-your-customer (KYC) requirements, data protection, and cybersecurity. In addition, appropriate measures will be taken to respond to the regulations and to ensure safeguarding of funds, users data protection and prevention of illicit activities.
Valtody`s team is committed to invest extra time and efforts in order to guarantee full compliance with the EU regulations. Our team will adopt a proactive approach in implementing all necessary measures and will exercise control to ensure that our operations are in conjunction with the EU legislation.

It's important to note that the exact requirements and obligations for wallet providers would depend on the final version of the MiCA framework and its subsequent implementation. Additionally, specific details and provisions of MiCA may undergo revisions during the legislative process.
Vaultody at a glance

Regardless of the MiCA framework, Vaultody team has been committed to providing the most secure and safe services to our users. We use the most secure cryptographic technology for key management and protection on the blockchain available on the market, known as multi-party computation (MPC). MPC is the gold standard for businesses and institutions managing transactions and wallets. MPC works as a keyless method for transaction signing and replacing private keys with key shares.

These shares are generated with the involvement of several parties, none of which shares any data between themselves. This ensures that no single party can ever gain access or visibility to the entire key. Transactions are signed, approved and broadcast with a single signature and the signers` key shares never become public information or leave the holder`s domain.

You can read about our amazing features where you`ll find what makes Vaultody Wallet second to none on the market.