What Evolving Crypto Regulations Worldwide Mean For Enterprises?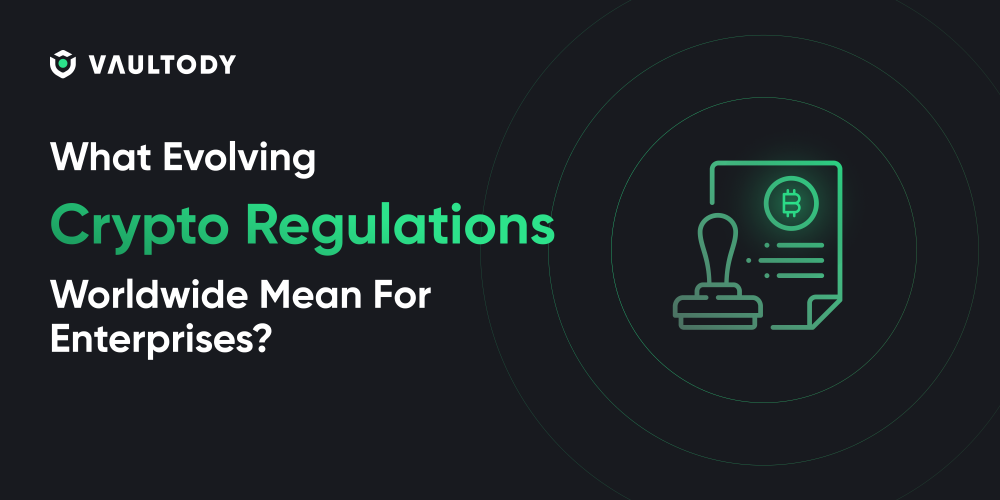 In the past, cryptocurrencies were often rejected by financial experts and the mainstream. The idea behind cryptocurrencies managed to survive and gain worldwide recognition, thanks to crypto supporters, early investors and developers. Digital assets have now become essential in investment portfolios, serving as reliable tools for performing financial transactions and preserving value.
While the use of cryptocurrencies was initially driven by retail investors and users, there is a discernible shift towards institutional adoption. Institutional investors are increasingly acknowledging this asset class and are incorporating it into their offerings alongside conventional investment choices. This growing interest undoubtedly benefits the industry.
Nevertheless, the substantial influx of institutional capital into the cryptocurrency ecosystem also poses unprecedented risks that must be addressed thoughtfully.
Organizational Adoption Goes Hand To Hand With Crypto Custody
Cryptocurrency assets are highly susceptible to cybercriminal exploits, leaving many users fearful of losing their holdings to theft. Incidents involving exchanges and custodial services experiencing large-scale breaches have amplified these concerns, resulting in significant losses. Security lapses in the implementation of cryptocurrency-related services are often to blame, as some companies fail to adequately protect user assets, leaving them vulnerable to hackers. These security flaws, coupled with a focus on user convenience over security, have led to numerous exploitations and the downfall of careless enterprises.
To address these security issues, institutional custodians such as Vaultody have emerged as a vital solution. Vaultody specializes in safeguarding large asset holdings, offering bespoke storage solutions tailored to the needs of institutional investors and enterprises with groundbreaking privacy and security mechanisms. While many exchanges prioritize user services like trading and staking, Vaultody prioritizes the highest levels of storage security.
This shift towards institutional custodians handling asset custody such as Vaultody is driven by the superior security measures. However, for enterprises choosing the non-custodial route, challenges in asset security persist.
Regulations Mean Safety For Our Clients
Institutional custodians offer a safe choice for institutional investors entering the crypto ecosystem, but there are still alternatives that pose risks. Ensuring the highest standards in custody services is crucial for the safety of all investors, whether retail or institutional. Global financial regulators recognize this and are implementing regulations to enforce the same standards for exchanges and other crypto businesses as institutional custodians when it comes to safeguarding user assets.
For instance, Hong Kong introduced in June 2023 comprehensive regulations for crypto service providers, providing clarity and robust user protection. Exchanges that store user assets must develop secure storage and transport systems to address vulnerabilities.
In the European Union, which is where Vaultody is registered as a company, a new "Markets in Cryptoassets" (MiCA) legislation dating back from April 2023 requires crypto service providers to obtain an operating license. This legislation is aiming to provide the necessary tools to regulators in order to track crypto being used for illicit activities such as money laundering, terrorism funding and others. The European Union has become the first to adopt measures requiring crypto service providers to detect and stop illicit cryptocurrency related activities. In order to comply with local regulations, Vaultody is fully compliant with the EU legislation and is licensed and allowed to provide custodial services within the EU area. However, please note that our scope is not solely limited to the EU area only. On the contrary, Vaultody is allowed to provide services аll over the globe. Even if you are based outside of the EU, this regulation is crucial for the privacy and safety of your funds, and it is to serve as a justification that we are going the extra mile to protect our customers and their digital belongings.
Even crypto-friendly jurisdictions like the Abu Dhabi Global Market (ADGM) have strict regulations for custody of investor assets. ADGM, an early adopter of crypto legalization, emphasizes user value protection. Its regulatory framework serves as a model for other jurisdictions. Operating as a crypto service provider in ADGM requires meeting high-level asset storage security standards, mirroring regulations in Hong Kong.
There are also numerous regulations in force across all continents, some of which are affecting entire regions, whilst others are effective on small local/domestic territories. For instance, it is worth mentioning some of the leading economies which have imposed their set of rules, affecting a large number of businesses. The US market for example has been pushing new rules over the years, with a new framework introduced to 2022, which handed over the power to control the market to the Securities and Exchange Commission (SEC) and the Commodity Futures Trading Commission (CFTC).
The good news for our platform users and future clients is that Vaultody services can be used worldwide without any concerns of restrictions limiting your scope. There are no specific local regulations and restrictions that are prohibiting the delivery of our custodial solutions across the globe. We are taking all necessary steps to continue to maintain compliance and not only match all local requirements that may arise, but to even surpass them in order to ensure an unmatched level of transparency, security and safety to our clients and their digital possessions.